Shopping cart
There are no products in your shopping cart.
Orange Blaze Bell Pepper
Plant Detail
Orange Blaze Bell Pepper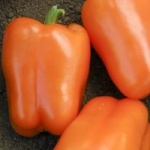 | | |
| --- | --- |
| Scientific name | Capsicum annuum |
| Common name | Orange Blaze Bell Pepper |
| Type | Vegetables |
| Variety | Perennial |
| USDA Zone hardiness | 2b - 11+ |
| Exposure | Full sun |
| Height | 1 to 2' |
| Spread | 1 to 2' |
'Orange Blaze' bell pepper from Seminis is the 2011 All-America Selections Winner. The sweet orange bell pepper matures early, has a sweet flavor and is very disease resistant. The 'Orange Blaze' fruit is ready for harvesting about 65-70 days from transplant. The fruits are 3 to 4-inch long and 1½-inch wide with 2-3 lobes. It is highly resistant to diseases especially Bacterial Leaf Spot. Plants reach 24 inches tall and 18 inches wide. Peppers are a tender warm season perennials they should be transplanted into the garden when frost is no longer a threat. Peppers will not do well in cold or wet locations. Peppers thrive in a well-drained, fertile soil that is well supplied with moisture. Use a starter fertilizer when transplanting. To ensure a good crop supplemental organic fertilizer should be applied after the first flush of peppers is set.