Shopping cart
There are no products in your shopping cart.
Bamboo Gardening Gloves, Nitrile-Palm (Men's)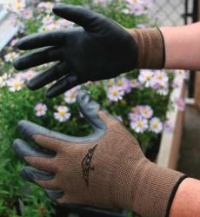 Price: $5.95
The ROC 100% BAMBOO Gardeing Gloves, grips like iron feels like bare hands.
• Made from all natural sustainable bamboo
• Moisture wicking, comfortable and breathable
• Amazing grip and dexterity
• Nitrile coated palm
• Naturally antibacterial and anti-fungal
• UV protected
A great gardeing glove for jobs large and small, plus their eco-friendly!