Shopping cart
There are no products in your shopping cart.
Allsop Soji Original Lantern - Red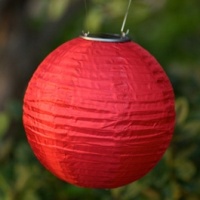 Sale Price: $15.95 was $21.95
East meets West with the solar powered Soji™ Lanterns! These bright festival lanterns will bring an elegant ambient glow to your outdoor space day in and out. Constructed of durable fade and weather resistant nylon, these 10" round solar lanterns accordion open, glow in a jiff without the hassle of electrical cords or wires. Place Soji™ lanterns in direct sunlight during the day and enjoy a beautiful ambient glow by night! Equipped with two high powered LED lights, solar panel, AAA rechargeable battery and stainless steel hardware. Also new for Summer 2010, Soji™ Original lanterns will come with a base stand allowing for the Soji™ Original to be used as a table top light!