Shopping cart
There are no products in your shopping cart.
Soji Pod Lanterns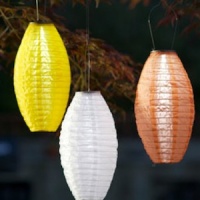 Sale Price: $15.95 was $26.95
Soji™ Pod solar powered nylon lanterns collect light all day and glow by night all without the hassle of electrical cords. The Soji™ Pod oblong shape compliments the natural environment. Make the outdoors festive with Soji™ Pod solar lanterns. For outdoor use.
Dimensions: 15" x 7"