Shopping cart
There are no products in your shopping cart.
Okatsune Pruners 7"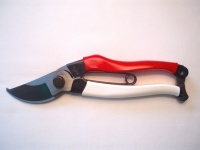 Sale Price: $32.95 was $37.95
-Specially engineered blade angle provides smooth clean cuts without crushing.
-Unique locking/unlocking feature allows you to open and close these shears with one hand.
-Manufactured with the same timeless traditions as a Japanese sward using hot hammer-forged "Izumo Yasuki Steel".
-High quality steel.
"The best pruners I have ever used"