Shopping cart
There are no products in your shopping cart.
Okatsune Thinning Shear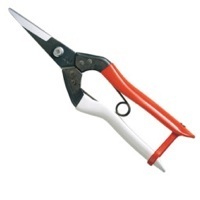 Price: $17.95
Blades are made of hot hammer-forged "Izumo Yasuki Steel" for maximum sharpness and cutting power. Long lasting with a blade thickness designed for the task at hand. Pointed thinning shear, 7 3/4". For delicate no-crush floral and thinning work. Cutting blade 2 3/4". Great for cut flowers.