Shopping cart
There are no products in your shopping cart.
EcoForms Herb Garden Kit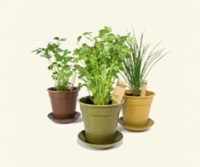 Sale Price: $14.95 was $19.95
The EcoForms Herb Garden Kit Contains everything needed to produce organic culinary herbs at home. The herb gardens will thrive either outdoors or indoors in a sunny spot with fresh air. Once planted the herbs will produce for for the entire growing season, around six months. The pots are made from renewable grain fibers and are biodegradable, the soil and seeds are completely organic. Choose from three different herb kits each with three different herbs.
Each kit includes: 3 pots and saucers,3 packets of seeds,1 bag of soil, wooden labels & growing instructions.