Shopping cart
There are no products in your shopping cart.
Allsop Pot Pads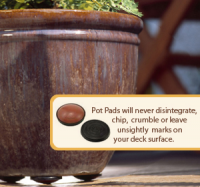 Price: $4.25
Save your deck! Pot Pads™ are a must for potted plants on any surface. Unlike other competitive products, Pot Pads™ will never disintegrate, chip, crumble or leave unsightly marks on your deck surface. Eliminate deck rot, bug infestation and molding under your pots!
Using a special two-part construction each Pot Pad™ is made of a hard plastic dome and a 'non-skid' rubber grip pad. Pot Pads™ grip the underside of the pot, creating a small point of contact on the deck.
Using Pot Pads™ also elevates the plant off of the deck surface to enable aeration and draining. Unlike other products, Pot Pads™ suction to the bottom of the pot allowing for easy movement of pots on hard surfaces. Think furniture mover pads for pots! Allsop pot pads.