Shopping cart
There are no products in your shopping cart.
Allsop Aurora Glow Solar String Lights, Sea Glass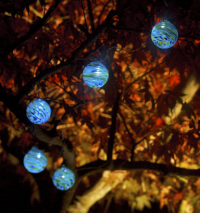 Price: $62.95
Allsop Aurora Glow solar string lights in Sea Glass add elegant ambiance for any evening enjoyed outdoors! As seen in INSTYLE magazine "101 Reasons to smile this summer".
Allsop Aurora Glow solar string lights in Blue Green Sea Glass,combine the beauty of hand-blown artisan glass and solar power with white LED lighting for unique and stunningly bright outdoor garden lighting. Nestle these beautiful lights amidst the greenery of an arbor, archway, tree, wrap them around a deck railing or hang them from an outdoor umbrella. Powered by the sun, the Aurora Glow string lights turn themselves on at dusk and off at dawn. Each one of the six hand-blown glass globes is inset with a high powered white LED and is designed with its very own glass hanging hook!
Aurora Glow string lights also come equipped with 6 copper hanging hooks and a 5" x 5" solar panel. This set of six hand-blown glass lights are each spaced 22" apart from one another with a solar collector strung nearly fifteen feet away. The solar collector is equipped with its own removable planting stake for positioning into the ground or mounting the solar panel to a hard surface without the planting stake. For optimum brightness, the solar collector should be positioned in full daylight while the lights may be nestled among the greenery of the garden.
Due to the artisan nature of the hand-blown sea glass globes, each glass piece will vary slightly in color and size. Each Aurora Glow is individual and unique, enjoy!
From Allsop Home & Garden