Shopping cart
There are no products in your shopping cart.
Schefflera Bonsai Tree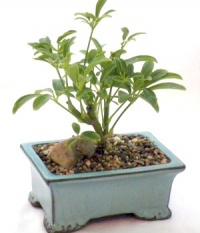 Price: $27.00
The Schefflera arboricola 'Lucy Anne' bonsai tree, also known as the Hawaiian umbrella bonsai tree. The schefflera bonsai tree is very hardy perfect for indoor environments. The bonsai 3 year old measures 9" tall the pot measures 5" x 3.5" x 2". Free bottle of Green Green bonsai fertilizer with every bonsai purchase.